Post by guest blogger: Patricia Ano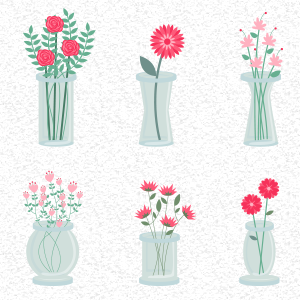 In the wonderful world of event–planning, floral arrangements are one of the best ways to create a, "wow-factor," for your special day. Flowers are commonly used as centerpieces for event–decorators and planners, and will vary style or creative detail, depending on budget. Here are two fantastic DIY arrangement ideas that we snagged from WeddingChicks.com and FloralInterludes.blogspot.com. When shopping for fresh flowers, your best bet is to purchase what is in season. If possible, using a wholesale floral supplier will save you quite a bit of money on fresh flowers; and even your local Trader Joe's often have seasonal bouquets for as low as $4.00.
Chic Cubes
Materials:
Pruners/garden clippers
20–24 gauge floral wire or rubber bands
Scissors
Flowers (Seasonal variety or your personal favorites)
Bucket of Cold Water (Tip: Keep the flowers in cold water until you are ready to use)
Clear glass cube containers
Floral food (Usually available at most florists)
Floral spray mix (Usually available at most florists)
Spray bottle
Directions:
Strip the stems of excess foliage (no leaves should be underwater)
Secure bundles of flowers with a rubber band or floral wire, Trim bundles flower stems so that the bottom of the blooms rest upon the container
Remove rubber band and set in glass cube filled with cold water and floral food
Spray arrangements with floral spray
Display or give as a gift
Mason Jar Centerpieces
You will need:
1 Bunch of seeded eucalyptus
1 Bunch of trachelium
1 Bunch of dahlias
1 Bunch of berzelia berries
1 Small vase
Scissors or flower shears
Directions:
Start with your leafy seeded eucalyptus. Trim the stems so that the seeds start right at the top of your vase and droop lightly over the edges. You will want to pull the majority of the leaves from the stem, as it decreases the cluttered leafy look and allows space for your flowers.
Next, clip your berzelia berry stems so that they extend 3-4 inches over the vase. Evenly disperse them throughout the eucalyptus. They should be slightly shorter and more rigid than the flimsy greens.
Do the same with the trachelium. The key is to fill in the blank holes and create various levels and dimensions throughout the arrangement. You want to see different textures and colors both internally and externally, throughout the arrangement.
Finish up by placing the brightly colored dahlias strategically throughout the vase.
Now, make your final tweaks. You may want to pull various stems out a bit, or push certain pieces back towards the center, depending on how tight of an arrangement you prefer.