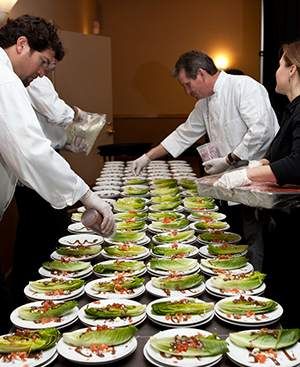 Our friends at Jackson Catering offer Event Center clients amazing options for planning your special event meal services. With customizable packages, the Event Center and Jackson Catering now have special Wedding & Special Event Packages that include We have developed wedding reception packages for your BIG DAY that include venue rental and catering, as well as our standard chairs, round tables, china, flatware, glassware, linen napkin & poly floor length table linen, and dance floor – for a per person price, based on the number of guests at your event.
Recently, our members here at the Sacramento Association of REALTORS® recently had the chance to devour some of their delicious menu items at our 2014 President Installation and Awards Luncheon. We started with a fresh baby wedge salad topped with diced tomatoes, onions, croutons, blue cheese, drizzled with balsamic vinaigrette. For the main course, our REALTORS® were served three individual, flavorful sliders: bbq turkey, beef, and pork. The lunch ended with deliciously warm, cozy peach cobbler for dessert!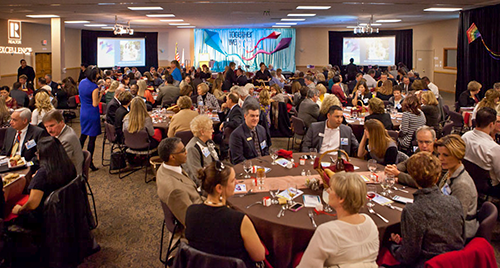 Whether you're planning a meeting for 20, a family reunion, or expecting over 200 guests on your special day, Jackson Catering will customize a menu to suit your needs and expectations.
Jackson Catering
(916) 483–7300
(916) 483–7310 (Fax)
Office Hours: Mon–Fri, 9am–5pm
Email: info@JacksonCateringEvents.com